I always have a Amazon Baby Registry because it is entirely free and sometimes you can combine two promotions to pick up cheap deals for baby gifts.
Amazon always offers an extra 25% off select baby clothing listed at the website when you use promo code  / discount at checkout. Even sweeter, you can enjoy an extra 30% off select clothing (discount taken at checkout).
More Reasons WHY TO Choose AMAZON BABY REGISTRY:
1. will you register at any of the big box baby stores if you know You can get it cheaper online? It's the one area I'm a total scrooge.
2. Amazon offers free two-day shipping for Prime members. Non-Prime members still receive free shipping but only on orders over $49.
3. Brand! Brand! Brand recognition is important for a registry because some people may be wary about buying gifts from an online retailer. (Plus, when I buy people gifts, I prefer to buy from their Amazon registry because I feel like I'm getting more value for my money.)
4. Amazon has a free 90-day return policy for baby tens. it's a pain for me to get to a Buy Buy Baby or Babies"R"Us. I had to plan time for a trip to return some items at one of the stores. If you end up returning any Amazon products, you can use the credit to buy virtually anything – not just baby items.
5. Last but not least, Amazon offers a 10% completion discount on items remaining on your registry up to 60 days before your child's arrival date (or up to 180 days after). Plus, if you become an Amazon Mom Prime member, you receive a 15% completion discount!! Since Amazon prices already tend to be lower than other retailers, this is really a good deal.
Here are some sweet deals I found which are always 30-55% off when you combine these deals:
Great Deals from Amazon Baby Registry
Bathing and skincare
1. Wash cloths – aden + anais Muslin Washcloths – I love aden + anais products. The wash cloths are the perfect size and super soft.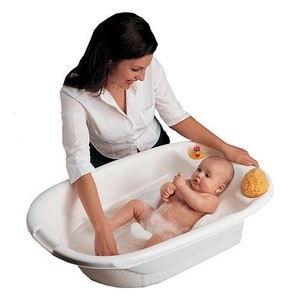 2. Baby bathtub – PRIMO EuroBath – Be prepared for a gigantic baby tub. Only get it if you have the extra space. You can bathe a newborn in a large sink. Or, better yet, get in the tub or shower with your baby and hold him/her while washing. This usually results in the fewest tears. Just watch out because wriggly wet babies are slippery!
3. Baby shampoo – California Baby Calendula Shampoo and Body Wash – I love this non-toxic shampoo and body wash. Extra gentle, smells good, and doesn't seem to sting the eyes.
4. Baby lotion – Aveeno Baby Eczema Therapy Moisturizing Cream – Neither of my kids had eczema but it's also great for dry skin.
Clothes

Burt's Bees Baby Boys' Organic Bee Essentials Burp Cloth 3 Pack, Cloud, One Size$14.95 In Stock
Final price can be cheap at $6.73


Burt's Bees Baby-Boys Organic Set of 2 Footed Coverall and 2 Caps, Sky, 3 Months$24.95 In Stock
Final price = $11.23


Gerber Baby 26 Piece Essentials Gift Set, Green, New Born/0-3 months $64.76 In Stock(reg. $70.00)
Final price from Amazon Baby Registry = $29.14


Burt's Bees Baby Baby-Boys Newborn Set Of 2 Organic Long Sleeve Bodysuits, Blueberry, Petite/Medium $13.09 In Stock (reg. $14.95)
Final price from Amazon Baby Registry = $5.89


Levi's Baby Boys' 526 Elastic Loose Straight Jean, Midnight, 18 Months $16.15 In Stock(reg. $32.00)
Final price from Amazon Baby Registry = $7.27


Levi's Baby Boys' 526 Elastic Loose Straight Jean, Midnight, 24 Months $16.15 In Stock(reg. $32.00)
Final price from Amazon Baby Registry = $7.27


Burt's Bees Unisex Baby Organic Set of 5 Short Sleeve Bodysuits, Heather Grey, Â 18 Months $15.90 In Stock (reg. $29.95)
Final price from Amazon Baby Registry = $7.16
Bedding
1. Mattress – Naturalmat Coco Mat  – One of the most non-toxic baby mattresses on the market.
2. Crib sheets – aden + anais Muslin Crib Sheet – It's hard to go wrong with aden + anais muslin products. (You should register for a few crib sheets. I would say, at a minimum, three.)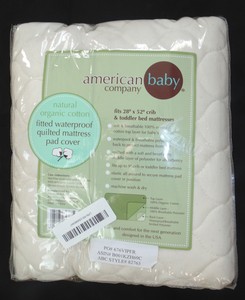 3. Waterproof mattress cover – American Baby Company Organic Waterproof Quilted Crib Pad Cover – I would get two since you need at least one extra for when accidents happen.
4. Sleep sack – HALO Sleep Sack or Zipadee-Zip  – The Zipadee-Zip is NOT available on Amazon but I had to mention it since I love it more than the HALO Sleep Sack. You learn some new tricks with a second baby and Alexa has been using it since she was 3 months old.
5. Swaddle blankets – aden + anais Muslin Swaddle Blanket – Don't overdo swaddle blankets. You will receive a lot of receiving blankets as gifts. I had two sets and ended up never using the second one.
6. Security blanket – Angel Dear Cuddle Twin Set – I love this as a super cute and soft security blanket.
CAR SEAT
1. Infant car seat – Graco SnugRide 30 Classic Connect Car Seat – UPPAbaby used to make a car seat adapter that you could use to snap into other manufacturer's car seats into their strollers. It appears that the converter has since been discontinued. If you decide to use an infant car seat, either get one that is compatible with your stroller system or get a stroller frame like this one. It is worth noting that, with the second baby, I used a hand-me-down infant car seat (from a trusted source and no prior accidents) and transitioned her to the convertible car seat at 3 months.
2. Convertible car seat – Peg Perego Primo Viaggio SIP 5/70 Convertible Car Seat  – I now own two of these car seats: both the leather-trimmed and regular version. The leather one looks awesome but only get it if you don't care about $50.
TOYS
Skip Hop activity gym – Babies love these little play mat things. Sam would lie under this and play with the little animals all the time. Definitely a must-have! We found ours on clearance at Target for 1/3 of the price, so look around!
Teething toys – Just get a bunch of these, because they are invaluable. The Nuby keys are cute and Sam loves them! Pro tip: throw all your teethers in the freezer and have them ready for when Baby needs them.
Baby Einstein musical toy – This thing literally entertains a baby for hours. Okay, maybe not that long, but seriously. It's amazing. Bring it in the car and the crying ceases.
Rattle – Obviously. It's a baby. This is too classic of a toy not to have.
Stuffed animal – Sam has a super soft bunny just like this, and it is the sweetest.
Board books! – We love love love all things Sandra Boynton, and really any and all books are a hit.
And inevitably, your baby's favorite "toys" will be anything that is not really meant to be a toy, i.e. pots and pans and boxes and remotes, so don't sweat the toy stuff too much.
Baby Food Feeding
High Chair: The Boon flair high chair is what we got when I found it on major sale. It was actually the first large purchase I made while pregnant. We like that this chair fits snugly to baby so there aren't a lot of crevices and creases on the tray or around baby for food to get stuck. I've heard good things about the ikea high chair as well though if you'd like a cheaper option.
Sippy Cups: I waited till later to get these and you can too, but if you want to go ahead and register for some, just ask your friends what their favorites are. Leyton isn't very choosy and we've gotten several different ones.
Baby Spoons: Any will do, I've found!
Bibs: And lots of them!
Drying Rack: I found that we had to have one and we still use this Boon Lawn one to this day…1 year later!
To find more baby gear eligilble for 55% off, just browse the products here and look for the above text on the product pages. Remember, this deal won't work if you don't sign up for a Baby Registry at Amazon.
If you like this online deal, please share this post with your friends!